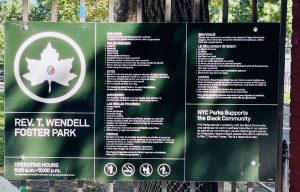 Earlier this month, SCAN-Harbor was honored to host a very special event where the late Reverend T. Wendell Foster was honored with the renaming of a park in the Bronx. The plans for the renaming started last year, but this event on September 18th officially marked the renaming.
SCAN-Harbor's Performing Arts Academy opened the event with a moving rendition of "Lift Every Voice," and it was truly a privilege and an honor for SCAN-Harbor to get the chance to pay such respect to Rev. T. Wendell Foster, and his entire family.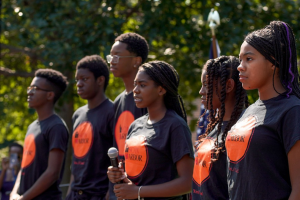 Here is a report on the event from the New York City Mayor's Office:
Mayor Adams, NYC Parks Officially Rename Mullaly Park in Honor of Late Reverend T. Wendell Foster
September 18, 2022
Rev. T. Wendell Foster Was First African American City Councilmember to Represent Bronx 
NEW YORK – New York City Mayor Eric Adams was today joined by New York City Department of Parks and Recreation (NYC Parks) Commissioner Sue Donoghue and the family of the late Reverend T. Wendell Foster for the official renaming of Mullaly Park and the Mullaly Recreation Center to the "Rev. T. Wendell Foster Park" and the "Reverend T. Wendell Foster Recreation Center" in the Bronx. Reverend Foster was the pastor of the Christ Church in Morrisania and the first Black representative from the Bronx in the New York City Council, where he championed low-income housing and served as long-time chair of the City Council's Parks Committee.
"Reverend T. Wendell Foster was not only the first Black City Council member from the Bronx, but a giant in New York City politics," said Mayor Adams. "Reverend Foster broke down barriers and inspired many, including me. He stood tall for the Bronx, and never gave up on this city or its people. I know that the Reverent T. Wendell Foster Park will inspire generations of future leaders to come, reminding us to live with courage and integrity, as he did."
"Our parks and greenspaces are as varied as the communities they serve, and we are beyond proud to continue our efforts of renaming park spaces in honor of the Black experience. Names like Rev. T. Wendell Foster Park serve as physical representations of the contributions and legacies of some of our city's and country's most prominent Black Americans," said NYC Parks Commissioner Donoghue. "Wendell Foster was a force in New York City politics and an inspiration to countless New Yorkers, and we hope the renaming of this park promotes reflection and inspiration for our next generation of changemakers in the city."
In response to community requests, NYC Parks announced its plans to formally rename Mullaly Park in honor of Rev. T. Wendell Foster, for a September 2022 renaming in accordance with NYC Parks' policy of naming three years posthumous.
NYC Parks announced its first tranche of namings in June 2020, when the agency created Juneteenth Grove at Cadman Plaza Park. Since then, 28 green spaces have been named in recognition of the Black experience across all five boroughs.