SCAN NY on "Treasurers of New York" — Sunday, November 20th at 7:00pm
Map Unavailable
Sunday, November 20, 2016
7:00 pm - 7:30 pm

We are thrilled to announce that the work of SCAN New York will be highlighted in a brand new documentary on WNET-TV.
"Treasures of New York, Settlement Houses" will air in New York City on WNET channel 13 on Sunday, November 20th at 7:00pm.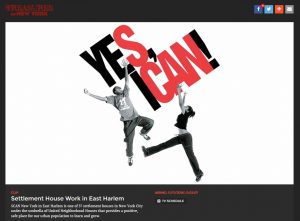 Click here to view a preview of the broadcast.
This documentary, which explores the 130-year history of the City's Settlement House movement, includes interviews with SCAN program participants, and the remarkable story of how SCAN supported one of our young people to overcome a daunting array of challenges, and ultimately grow up to become a successful professional … and SCAN NY Board Member!
SCAN is honored to receive this noteworthy attention from WNET New York Public Media.
We invite you to tune-in and see for yourself how SCAN so effectively supports the highest risk children and families of East Harlem and the South Bronx.
note: after the November 20th broadcast, the documentary be available for streaming on WNET-TV's website — stay tuned for the link!