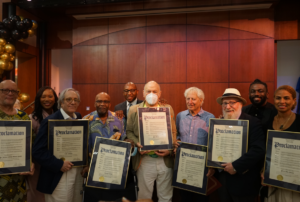 What an electric evening as SCAN-Harbor Executive Director Lew Zuchman was honored by Queens Borough President Donovan Richards Jr. along with fellow 1961 Freedom Riders and other Champions of Civil Rights at Queens Borough Hall recently.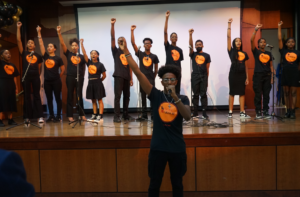 SCAN-Harbor Performing Arts Academy's Ensemble opens the ceremonies with a beautiful rendition of "Lift Every Voice and Sing" (Photo Credit: Queens Borough President's Office)
The evening opened with a beautiful and moving version of the Black national anthem, "Lift Every Voice and Sing," performed by SCAN-Harbor's Elite Ensemble of the Performing Arts Academy. The performance was recalled and lauded throughout the night by various speakers including Freedom Rider Paul Breines who proclaimed, "My God those SCAN-Harbor singers, what amazing voices!"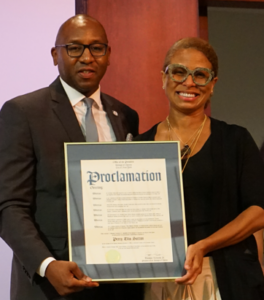 Queens Borough President Donovan Richards Jr. surprised a few honorees with proclamations, including a post-humus proclamation for Percy Sutton whose granddaughter, Manhattan Deputy Borough President Keisha Sutton-James, received on his behalf.
"This is personal for me," Sutton-James said, "and it is an honor to be here in the presence of people who walked the same journey that my Grandfather walked, and faced the same challenges that he did."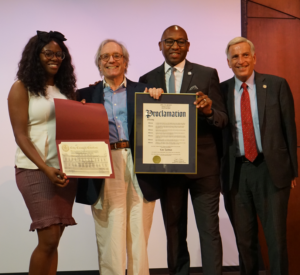 Throughout the night, with reflections on the performances of SCAN-Harbor's Elite Ensemble, and a multi-media performance from the Edge School of the Arts, a theme emerged about the benefits of coming together.
In his acceptance speech, SCAN-Harbor's Lew Zuchman talked about the skills and talents these youth possess, and how we should all come together and celebrate those successes.
"Look at what a great evening tonight has been, look what can happen when we work together."
Mr. Zuchman also made special mention of Assemblyman David Weprin, who's Aunt was one of the first board members of SCAN-Harbor:
"Without Jane Weprin's hard work and dedication, SCAN-Harbor would not have become what it is today- the largest youth services provider in Harlem, East Harlem and the South Bronx!