*SAVE THE DATE*
SCAN-Harbor Executive Director Lew Zuchman will be a keynote speaker in a three-part discussion series on racial equity and the historic bonds between the Black and Jewish community.
The discussion series will be co-hosted by Dee Sanae of Mosaic Visions and Yolanda Savage-Navar, director of Racial Equity, Diversity, and Inclusion (REDI) for the Union for Reform Judaism.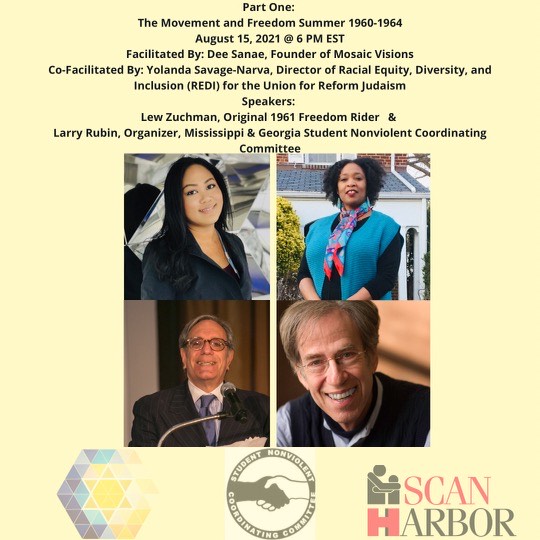 From the discussion Hosts:
Mosaic Visions is excited to announce that we are launching a three-part civil rights conversation from a different perspective-one that will teach our community how to show up as a faithful ally. To examine this through a historical lens, Dee Sanae, founder of Mosaic Visions is virtually talking to two Jewish allies that organized and rallied in the Civil rights movement with Martin Luther King, Jr. Throughout the past year, we have all witnessed a call to stand up and join the right side of justice, to speak up for the less fortunate and the wronged, lending a hand to injustices due to race and skin color and showing up as an ally.
The conversation will give a dynamic approach as the discussion will enlighten us with motive, sincerity, authenticity, and raw human emotions where we can all learn from each other.
Facilitated By: Dee Sanae, Mosaic Visions Founder
Co-Facilitated By: Yolanda Savage-Navar, director of Racial Equity, Diversity, and Inclusion (REDI) for the Union for Reform Judaism
Speakers: Lew Luchman, Original 1961 Freedom Rider & Larry Rubin, Organizer, Mississippi & Georgia Student Nonviolent Coordinating Committee
WHERE: Zoom
WHEN:
August 15, 2021 @ 6 PM EST Part One
August 22, 2021 @ 6 PM EST Part Two
August 29, 2021 @ 6 PM EST Part Three