On May 17th over 130 friends, supporters and partners gathered at the New York Junior League to celebrate our 2016 Spring Gala, "Reaching New Horizons".
This year's event was a wonderful opportunity to honor those who continue to play a vital role in our growth, and to raise much-needed funds to help improve the lives of the most vulnerable children and families in the communities we serve.
Congratulations again to all our honorees!
The New York Junior League
Nan Puryear – SCAN New York Board Member
Donna Pearce – Director, Bronx SCAN Family Renewal Center

Katie Harris – NYCHA Wagner Houses Tenant Association President
Vanessa L. Gibson – New York City Council Member
Kevin O'Connor – New York City Police Department Assistant Commissioner
Robert J. Rodriguez – New York State Assembly Member
Chad Gadsden – SCAN Youth Honoree
Kayle Morris – SCAN Youth Honoree
Jahata Richards – SCAN Youth Honoree
We'd also like to say a very special thank you to our emcee for the evening, TV reporter Ines Rosales, who featured our event on FOX NY's Good Day New York!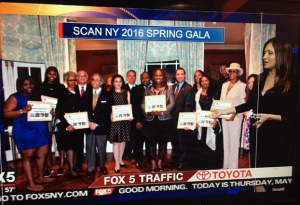 Thank You to Our 2016 Spring Gala Donors!
Silver Sponsors
Robert Kantor
Larry Lavine
Patrick McMullan
Herald & Linda Ritch
Brass Sponsors
Richard Asche
Vince & Denise DeGiaimo
David Jaffe
Steve & Susan Lebow
Mount Sinai Health System
James Neissa
Sylvia's Angels: Bedelia, Crizette, Sharon, Gloria
Copper Sponsors
Sampson Glassman
Stuart Greenspon & Camilla Trichieri
Judith & Stephen Stoll
Sylvia's Angels: Deseree and Gina
Benefactors
AB Bernstein
Joyce Cowin
Themis Dimon
Frenkel Benefits LLC
Richard Galanti
Gerald Gorman
Mark Gormley
David S. & Ruth Gottesman
Jack & Frances Harris
Elliot Jaffe
Fran & Bill Klingenstein
National Basketball Association
Morris W. Offit
Jane L. Overman
Stanley Reese
Dr. David Scott Ross & Dr. Laura Ross
Elan Schultz
Richard Schwartz
Laurie M. Tisch Illumination Fund
Reginald Van Lee
Thomas & Anita Volpe
Supporters
Ann Bialkin
Mr. & Mrs. Jeffery & Joan Barist
Custom Image Apparel
Bruce Deichl
Robert Fleischer
Vincent A. Gardino
Lynn Handelman
Fran Levitt
Andrew & Rachel Meranus
Barbara Moore
Margaret McHugh
Paula Oppenheim
Alan & Wendy Pesky
Geoffrey and Betsy Picket
Warren J. & Florence Sinsheimer Foundation
Amy Solas
Michael L. & Eve Kurtine Steinberg
Harold Tanner
J.J. Thomas
Robert T. Whitman
Carol & Lawrence Zicklin
Friends
Mr. and Mrs. Ira Neimark
Lauren Chung
Kara Dunn
Leon Eastmond / EASCO Boiler Corp.
Mimi Halpern
Rahesha Harrison
Jeremy C. Kohomban
Stacey Lawrence Lee
Isabelle R. Leeds
David G. Marshall
Sara McCook
Jamel Oeser-Sweat
Mari Quilio
David and Linda Sicher
David Steinhardt
Anne Bahr Thompson
John Tully
Leah Wenger
Itang H. Young
Contributors
Caroline Adams
Mr. & Mrs. Robert Bernhard
Majorie Bliss
William A. Blumstein
Thatcher & Sarah Brown
Jennifer Brown
Bernardo Casso
Jonathan Choslovsky
Yahonnes Cleary
Ann Cohen
Catherine Cook
Sivan Cotel
Oliver Crespo
Sophie Fader
Jon Farkas
Marci Field
Kathy Frank
Joseph Gahtan
Barry Garfinkel
Michael & Anne Golden
Jill Goldman
Marian Heiskell
Dr. Herbert & Josephine Hendin
David Hoffman
Charles Hurt
Matt Kidd
Jospeh Lane
Kate Moffet
Peter Moore
Barbara Moore
Kush Nijhawan
Adam Parker
Ralph E. Preita
Howard Presant
Nicholas Puglisi
Gene & Susan Resnick
Ines Rosales
Keith Rosenbloom
David Rothfeld
Barbara Samuelson
Fran & Tony Saracco
Kevin Shapiro
Joan Shoykhet
Lisa Smith
Andrew Sunshine
Harry Sunshine
Rachel Sunshine
Jonathan Tower
John & Sue Ann Weinberg Foundation
A. Toni Young