SCAN New York is proud to present
a Special Benefit Performance of
Freedom Riders: The Civil Rights Musical
Thursday, May 3, 2018
6:00pm Reception
7:00pm Performance
Saint Peter's Church
619 Lexington Ave, New York, NY 10022
corner of East 54th Street
Featuring:
Special Guest Emcee: Corey Stoll (House of Cards, Ant-Man, Girls)
Post Performance Panel Moderator: Budd Mishkin (Broadcast Journalist)

Founded in 1977, SCAN New York is a non-profit youth and family service organization that provides a variety of integrated supports to the highest risk children and families of Harlem, East Harlem and the South Bronx.
Our mission is to provide the highest risk families and children living in East Harlem and the South Bronx with integrated family-focused programming that uses a positive approach, harnesses individual strengths and fosters responsibility, self-esteem, initiative and the development of life skills.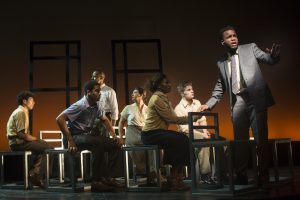 In 1961, 400 ordinary people put their lives on the line to bring attention to the injustice of segregation in an action that would show the world an image of the "burning bus America" whose existence most Americans wanted to ignore.
FREEDOM RIDERS: THE CIVIL RIGHTS MUSICAL tells the true story of the activists who boldly challenged the legality and optics of the Jim Crow South by riding in mixed groups.
Check out the musical's web site at freedomridersmusical.com.
Check out this video of a song from Freedom Riders
All proceeds will benefit the programs of SCAN NY.
Please consider purchasing tickets that will be donated to SCAN youth and families.
Suggested Donation Levels:
PLATINUM SPONSORSHIP – $20,000
10 tickets and prominent listing in all printed and online event materials
Podium recognition by SCAN leadership at event
Prominent visibility in all event-related social media and press releases
Listing in the event program as Platinum Sponsor
Premium seating
Invitation to attend pre-performance rehearsal
Invitation to dinner with a Freedom Rider
GOLD SPONSORSHIP – $15,000
8 tickets and prominent listing in all printed and online event materials
Podium recognition by SCAN leadership at event
Inclusion in all event-related social media and press releases
Listing in the event program as Gold Sponsor
Premium seating
Invitation to attend pre-performance rehearsal
Invitation to dinner with a Freedom Rider
SILVER SPONSORSHIP – $10,000
6 tickets and prominent listing in all printed and online event materials
Listing in the event program as Silver Sponsor
Premium seating
Invitation to attend pre-performance rehearsal
Invitation to dinner with a Freedom Rider
BRONZE SPONSORSHIP – $5,000
4 tickets and listing in the event program as Bronze Sponsor
COPPER SPONSORSHIP – $2,500
2 tickets and listing in the event program as Copper Sponsor
BENEFACTOR TICKET – $1,000
Listing in the event program as Benefactor
SUPPORTER TICKET – $500
Listing in the event program as Supporter
FRIEND TICKET – $250
Purchase Your Tickets: